(OK, so this is something that often doesn't happen–an artist with the balls to openly review his own work with the same scrutiny as he does others. So, let's get into it. This is to be taken seriously and somewhat tongue-in-cheekily as well)


Speed on the Beat
"No-Fi King" Speed on the Beat's second album Songs For… picks up exactly where Speed's first effort RAQUEL RELOADED left off. After a somewhat curious choice of an intro–Speed, his son, and his son's mother share a moment in their lives–we're taken to Speed rethinking his decision to kill himself. What unfolds on the first actual track of the album, "The Vent Songs For…)," both treads familiar territory and sheds new light on a situation. When Speed says lines such as "I preached false truths, I tried to make myself look better than/My fellow man, just because I'm ashamed of what lied within," you hear Speed's pain and anguish, but you also see a man who's been through this time and time again. He's a guy who's clearly been through a lot of shit over the past year or two. The escalating beat in this song sets a tone of triumph, but a melancholy one.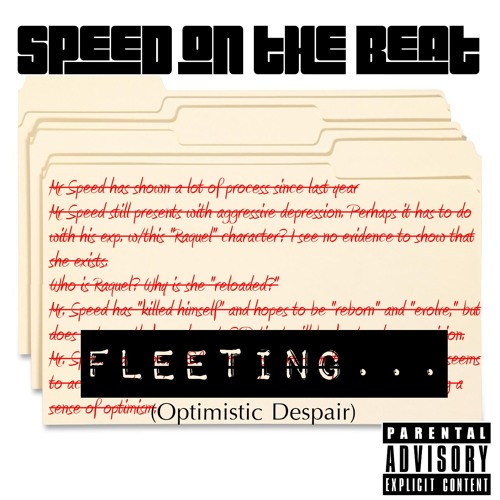 Speed is showing listeners that, while there's hope, the hope is steeped in, to borrow one of Speed's S4 song titles, "Optimistic Despair."
For every moment where it seems that Speed is getting it together in the first half of the album (example: his boisterous claims on "Kings," featuring long-time DAR collaborator True God), we're given a sadly introspective song such as "The Ballad of Johnny," one of the standout tracks in the album overall. This back-and-forth narrative structure illustrates Speed's wavering opinions of self-worth in the world and his own doubts as the "No-Fi King," the "Second in Command of DAR," and even just as a father and a man of the people. We hear this the most on "The Ballad of Johnny," where Speed tells the audience some of the reasons why he's been as fucked up as he is (parental issues, abandonment issues, having to fend for himself, hustling, et cetera). Using somewhat familiar sample fodder, Speed on the Beat still finds new life in this song.
"Johnny" and its accompanying song "Owning Up," show growth unseen on the first album-and-a-half we've heard from Speed on the Beat. He's not putting the blame on others and, well, owning up. I do question why Speed decided to map out the story with "The Vent" so far away from "Owning Up." I guess "The Vent" sets up the ideas and the two aforementioned songs actually hit the point home.
The Franz Ferdinand-sampling "Fire! (The Rise of the Gift of God)" seems out of place on an album where a man is battling his own demons. But, after listening a few times (maybe four to five times, because the no-fi thing kind of pulls the wheels off this track), you get why he make every choice he did with the album. Life isn't a straight path from hell and back. It takes some curves to get there, but eventually, you'll get there.
If you want to be reborn and live a better life, that is. And, honestly, isn't it a bit more fun that way–to go through hell to get to heaven, or raise hell until it's heaven, to quote Jay Z (who quoted Jay-Z)?
Pros:
1) Speed's production ability shines through here in a way previously unseen. Putting original beats in with samples (some pretty odd samples, such as the "Thanatos" backing track), Speed shows why he's one of the DMV's up-and-coming double threats. I refuse to call you a triple threat, Speed. I've seen that "Holy Grail" cover video. Stop it.
2) The story and structure. Hopefully, Speed will finally be able to reconcile his life (with his son, his ex-fiance, with his friends, and with himself). We'll see on the last album of the story.
3) "The Ballad of Johnny" may very well be one of the best storytelling tracks put out this year.
4) Speed's honesty allow for a completely transparent look at a regular man.
Cons:
1) The no-fi thing can be a bit offputting. I get why he does it. Most of the time, it works well. But sometimes, it can make it hard to get through the entire album.
2) "Don't Take Much (We Cool)" is completely out-of-place on this album. It seems like Speed tried to reach out to the main stream on that one. It looks like it's worked. It's one of the higher-played songs from the album on Spotify. It's not a bad song, it just seems out of place compared to the rest of the album.
3) "Thanatos" is only one verse, with an Evangelion sample. Hopefully, we get to hear the end result on that last album.
Final verdict? Stream it. And if you can deal with the no-fi-ness, buy it. Either way, it's an album you should at least hear once.