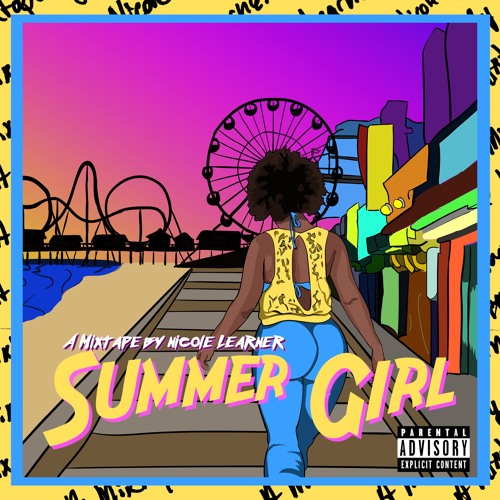 The other half of the Cole and Soul Podcast, Nicole Learner, also dropped a project recently. Summer Girl is a whole bop, to put it short and sweetly. I could leave it at that, but that'd be like a one-listen review.
According to Nisho, the duo's energy while working on this and their other endeavors pushed them to achieve heights unseen. Summer Girl is full of moody summer vibes, which allow her to speak on topics such as love, lust, abandonment, good times in the face of darkness, and more. Essentially, it's a perfect summer album. The production is Solonge-esque at times, such as songs like "Radio" featuring SolLikeSoul (who seemingly channels Solange on the hook). Overall, the production is bouncy, but still has a "live" and sometimes dark feel to it.
The slow burner "You Know What You Did" features Learner being vulnerable and braggadocios about her game at the same time. When coupled with "Summer Girl," we get a full picture of the woman Learner desires and feels. She's a doozy, since she's got Learner writing several love songs for her. It further shows the complexities we sometimes feel during summer. We want to chill but then someone comes around and messes our collective heads up for whatever reason, changing the whole mood of the season.
The whole album isn't lovey-dovey, though, as Nicole also flexes her flow muscles several times on the album, such as "Alien Invasion." This track is one of my favorite because the production reminds me of a Timbaland joint from the 90s. Speaking of Timbo, there's a real Missy Elliott vibe to the project, even down to the sing-songy approach to several tracks. Perhaps that's another reason why Summer Girl gets an SOTBMusic stamp of approval. Check it out and remember to support dope music in all its forms.