As a Black football fan, I'm often conflicted. On one hand, it's still unjust that Colin Kaepernick doesn't have a job while Mason Rudolph can kick people, the Bengals are still a thing, and Dwayne Haskins has selfie brain farts.
However, I use football as something I bond with my children and my friends over. My fantasy team sucks and I'm on the verge of becoming the Taco of my League. But it still gives me something to talk about with them besides memes, anime, and familial situations. As a conflicted football fan, I wondered if cheering for the Ravens meant I "forsook 'the cause.'" I eventually said that train of thought was BS; we can protest injustices and create change in many ways. You can choose to boycott the NFL or you can choose to protest the unjust killing of Black men while using the NFL as a talking point.
So I tuned in this season, eager to see what Lamar Jackson could do.
I picked a great season to fully get back into the league as Lamar Jackson is doing things I've never seen before in real life.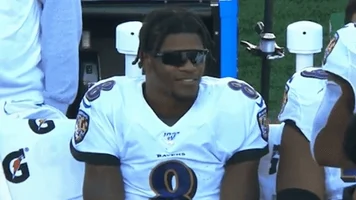 At 22, he's playing at a level that is, in so many words, bonkers. He's thrown for over 2,400 yards and 24 touchdowns, while picking up 876 yards and 6 scores on the ground. His play makes defenses scramble, which allows for Mark Ingram II to bruise the inside and give bursts of speed. The Jackson-to-Brown connection, as I discussed in a previous piece, has been what Baltimore has lacked for years. Ditto for the Jackson-to-Andrews connection (it reminds me of Brady-to-Gronk in some ways). Jackson's play also allows for the defense to stay fresh. This gives them a leg-up on their opponents as well.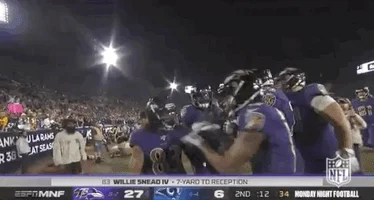 The term "video game numbers" gets thrown around a lot in today's NFL. Patrick Mahomes, Deshaun Watson, Russell Wilson, Christian McCaffrey–the list goes on and on. The game has been exciting to watch. However, over the past several weeks, Lamar's play has blown these players out of the water.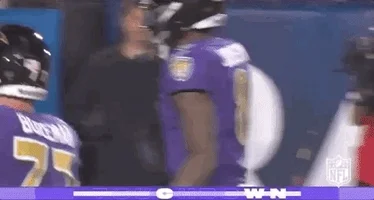 In a bit of cruel irony, Ravens offensive coordinator Greg Roman's schemes set up Colin Kaepernick for his best seasons with the 49ers. Kaepernick and Jackson (now) have similar builds. 6′ something, kind of hulking but incredibly fast, huge arms. So it's like seeing what Kaepernick could've done with Roman had:

A. Roman stayed with the 49ers after the 2014 season
B. Kaepernick stayed healthy in 2015
C. The 49ers had the wealth of talent at other positions during the Roman/Kaepernick years that Baltimore has right now.
After a few years of a carousel of OCs and Joe Flacco not having as many weapons, the Ravens have found a combination of talent, brains, and speed that works and works well–offensively and defensively. The future is bright for Lamar Jackson and the Baltimore Ravens. Can/will teams adjust? Probably. Regression to the mean is par for the course (that's a mouthful). But with the way Baltimore's played this season, I fear that, for the rest of the league, the Ravens will do their best Roddy Piper impression. If you prepare for the Ravens to run, they'll pass. If you shut Lamar down, they've got Ingram, Gus Edwards, and their tight ends. You blitz, they'll beat you with their speed. And that's not even taking into account their hard-hitting defense. Just when defenses think they have all the answers, Lamar and company change the questions.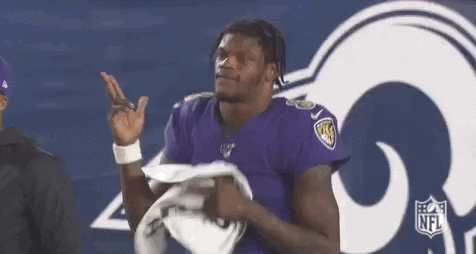 And it is fun to watch.