I've known NishoSoul for the past couple of years, first as an artist from the DMV and then as someone I'd consider a homie and someone I can talk life with. Our friendship is one born from the love of dope music and anime–as many of my friendships are–and got stronger over the last year or so. A multifaceted artist who also hosts the Cole and Soul Podcast with Nicole Learner (along with The Lab from OneLoveMassive), has been quiet over the past year musically, but it's not because he's been resting on his laurels in the podcast game.
A bit of an admitted overthinker, Nisho has carefully plotted out his next moves. As with Charlie Too Much, he agreed to chat with me about his process, the podcast, and that nerd life. The following is a transcript of our conversation.
Speed:
So, let's get into it. How's life been for you the last few months?
NishoSoul: Life's been crazy. The family's been good. But, I've just been working like hell, flipping this money, and working on the podcasts I'm with, too. I'm with two, "Cole and Soul" and "The Lab."
Speed: That's always good, though. Idle hands are the devil's playthings, you know? How did Cole and Soul come to fruition? For me, it was like yesterday, it wasn't a thing and now, today, you two have a hit podcast.
Nisho: Man…it was months of planning before we even did the launch. Nic [Nicole Learner] and I just had an idea of making a platform to give back to artists and people who gave us a platform. It evolved into something sustainable that people genuinely enjoy. I love it! Between both of us, we met and networked with so many artists within a three-year span. We've just started going down the list of who we've wanted to get.
Speed: I'm glad to see it happening and I try to catch most of the episodes, either the day of or a bit later. I love the format and the approach you two have. Musically, though, this year, you've been a bit quieter than usual. Let's talk about that, because I know a while back, we discussed a whole project or two you were working on.
Nisho: Yes! "Quiet" is an appropriate word. In between the podcasts all year, I've been teasing my album, Soon Enough, which, realistically, I've been working on for two years. So much has changed between when I first started [on it and now].
But, let me backtrack. I only dropped one song this year called "Hold You Down," which has been taking off like crazy. I didn't even expect it to [take off like it has]. I also teased continuing "For Your Friday" to lead into the album because I expected to finish by December 2018, actually. But, life and mad creative changes.
Speed: I know how that goes. So what happened to draw you in another direction?
Nisho: The overall is like this. I wanted to do this album solely by myself. Covers, mixing, everything…before those results had minimal traction. But, it dawned on me that the more I meet and constantly connect with artists: they can elevate this album in ways I cannot. They see this collection of songs that are dear to me to make something even greater.
There are several ways I wanted to "present" this album. I wanted to do it as a trilogy of projects. I then wanted to do an A-Side/B-Side [sort of thing]. Then, I'm just sitting there like "over-complicating it won't help." I just show the honesty, the struggle in between writing. Leave it all in the music.
Speed: Are you continuing to do everything–or mostly everything–solo or are you allowing others into your process now that the album has started to take on another form?
Nisho: I've definitely got others involved. I have an amazing graphic artists on my cover, TigerLily Baby. We've been cool for a long time and I've been shooting her concepts back and forth. We've got something solid.
(Not final cover design)
Mixing, I've got a couple people I'm working with. The main recordings have been me, but with outside mixing. Production, I have none of my own–just people I've worked with a while and a few for the first time. But, the growth is gonna be apparent.
Speed: Alright, bet. So, when does it drop? I mean, I've seen people looking for it.
Nisho: I have a deadline I gave myself. So, roughly February. Actual date? I won't give it. So, I'll say Spring 2019. I know folks have been looking for it. I've also had folks pretty much advising me that the quality I want for this is gonna take time. That's why I've been quiet.
Speed: That's a smart plan, though. Keep it close to your vest until you're ready to showcase.
Nisho: Pretty much. And here's an actual update on everything. I do have one of two visuals in the works. One is from the album, while the other is for "Hold You Down."
Speed: You and Charlie Too Much may drop around the same time, then? Speaking of Charlie, you've alluded to knowing him for years. Have you two ever collaborated on anything that I may've missed?
Nisho: Yes, sir! This man Charlie is a monster! His growth is crazy, since years ago–I'm talking pre-Charlie and pre-Nisho days. We officially collaborated once for my 2014 EP, For Your Consideration. It was a joint called "Greatness" that I produced. That time was a big transition for both of us, as he was just going into "Too Much" territory and I was on the cusp of my own sound.
Speed: Nice. What should people who've never heard you expect from your album?
Nisho: Expect…expect a lot of introspective songs, celebration songs, "crank" songs–just diversity unlike anything they've heard before.
Speed: I see and I'm intrigued myself. Are you listening to a lot of local artists? If so, who and why?
Nisho: Surprisingly, I've been catching up on a lot of releases recently. I've been skipping around from IDK, who has insane lyricism and storytelling, to Lyri from VA, who just bodies shit. I've been listening to Cal Rips and Sir E.U. as well, two amazing rappers from the 4–or Fort Washington. I've been listening to Sol–SolLikeSoul–who's a really dope singer. She dropped her debut EP earlier this year and I actually produced a track on there, "Free." Many many more, though. Endless music. But, those are the recent ones I've been peeping.
Speed: Outside of music, because there's a lot to gather from the list you just gave me, what do you find yourself getting into?
Nisho: I've been dodging wrestling, mainly WWE.
Speed: Same.
Nisho: I've definitely been anime binging, for real. Mainly Attack on Titan and My Hero Academia. I've also been trying to finish this other series I found called A Certain Magical Index. I've been catching up on gaming a bit, too, playing Monster Hunter World and SOULCALIBER VI. So, I'll definitely be making more songs off that. Really, though, I've just been finding the small things I can appreciate on my own and in mixed company.
Speed: Did you see the MHA movie?
I saw a snippet of it through bootleg, since I missed the theatrical showings in Maryland. Something clicked, though, and I was like "something this majestic needs an official release purchased." So, I'm holding off until it's released officially.
Nisho: No, I didn't, and I completely agree. MHA is a great show. Do you have a favorite hero/pro hero so far?
Speed: So far? I've been partial to Todoroki, Bakugo, and Deku. I do like Iida, though, because he's so honorbound and one of the more fleshed-out secondary characters. I friggin' hate Mineta, though.
Nisho: Iida is really my mans. At first, I was like "okay, he's the stickler for the rules." Then his whole story made me a big fan.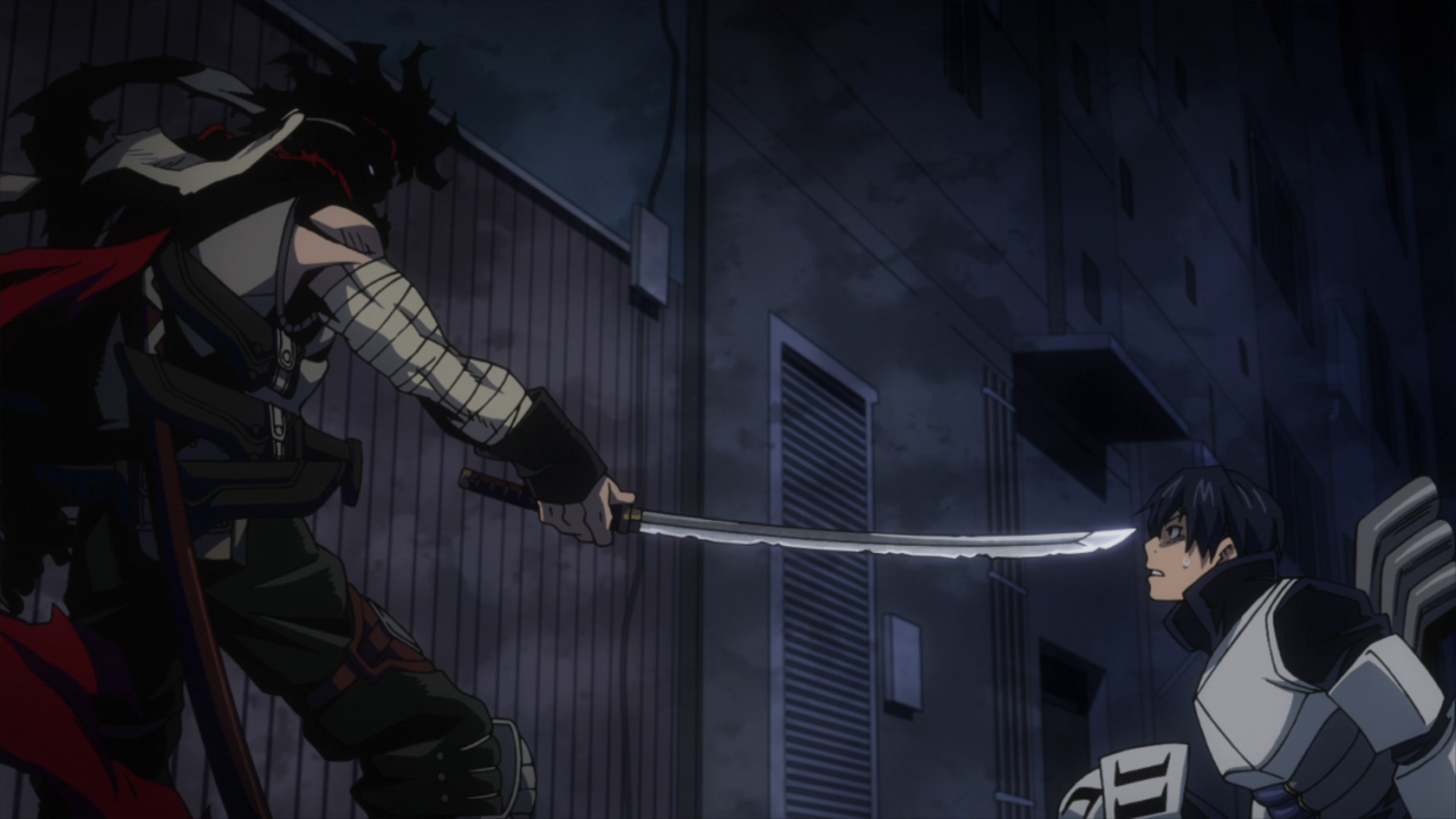 Deku and All Might are up there. Momo-chan, too–her ability is crazy. Agree with you on Mineta, though.
Speed: Momo is the homie.
Nisho: She's like the big sister you didn't expect to be really cool with.
Speed: Completely agree. Did you play/finish playing Persona 5?
I keep picking it up and it's amazing. But, I can't ever invest as much time as I'd like, on the account of family and adulting.
Nisho: Persona. I've gotta figure out the game to start from. I hear it's really good.
Speed: I just started with 5, while reading up on the first four entries in that series. Sorry, purists. It's pretty good, though, and incredibly interesting. No complains, thus far. It's kinda a throwback to older RPGs with its dungeon crawling, but it does that in a way that doesn't really feel dated, in my opinion.
Nisho: Hmm…intrigued. Doesn't it play like an anime as an RPG?
Speed: Kinda, yeah. It feels like a mix between the supernatural, the occult, and slice of life. Thing Haruhi Suzumiya meets Eva (without the brain bleach) with the battle dynamics of an older Final Fantasy game and the, at least for the fifth game, the team dynamics of a heist film.
Nisho: Good God! Suzumiya is also semi-supernatural.
Speed: You right. Absolutely loved that series. I didn't really get into the sequel series, though.
Nisho: I've seen it in passing. It looks crazy.
Speed: It's like part spoof of the slice-of-life series, part Family Guy, part romcom with supernatural elements out the ass.
Nisho: There it is.
Speed: So, with 2018 in the rearview and 2019 ramping up, do you have any wisdom you want to impart on the youth and/or the SOTB readership?
Nisho: Three seems to be my number, so I'll leave three lessons as we get into 2019. First, take risks in whatever your craft is. Second, be productive of your energy. Third, the world is changing and shifting, so bring your best and continue to be your best for the people that come into your life.
Speed: Nisho, as always, it's a pleasure to talk with you and I'll be sure to have a review of Soon Enough on the site when it finally drops. Much peace to you in the coming year.