Since Baltimore Commercial Break 2 released, I've been getting quite a few emails and looks from people in the 410, 443 and 667 about music. That's an amazing feeling, to have the ability to connect with artists from my hometown. Que (BMoreAlien/Station North Sadboi) introduced me to a composer from the area, Infinity Knives.
When I say that he's amazing, I put that on Mama Young.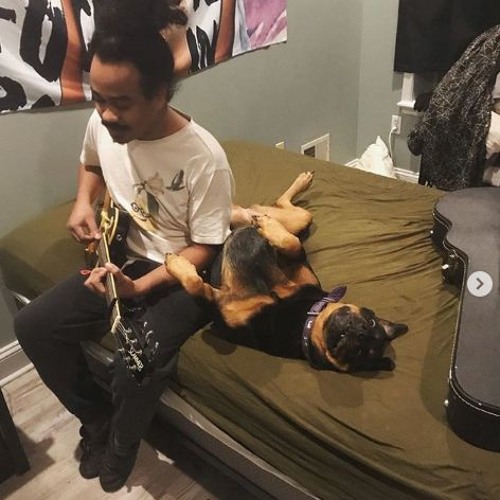 The Tanzanian-born, Baltimore-residing composer is self-taught, which I respect even more. It's somewhat hard to pull that off and still have it be impressive. Knives' music is the antithesis of popcorn, as each composition gives us a view into his soul, his essence. I got dropped into the second part of his two-part project, Dear, Sudan, without knowing much about other than what he (and Google) told me. His debut, In the Mouth of Sadness (Ugly Nigga From Heaven), released in March. However, Dear, Sudan, due out December 12, is where I found him and his work.
Knives' influences run deep, as the composer has elements of Flying Lotus, Phillip Glass, and Ryuichi Sakamoto within his work. Equal parts therapy, "I can do this like the greats" aspirations, and just an exercise in expression of self, of Blackness, and of life, Sudan is one of the best instrumental albums I've heard in a while. This is coming from someone who lists Dilla's Donuts as one of their favorite albums in history.
It's a listen that is easy to lose yourself within, but complex to decipher where he's going and why he's going that way. In other words, it's right up my alley. After listening, I found myself like "aight, lemme check out the first part."
In the Mouth of Sadness feels like war-ready at points, reflective at others. A track that got me in my feelings was "Goodbye, Cruiser." I'm a sucker for beautiful pianos. A lot of my early tracks utilized pianos ad nauseum, even though I could never really play (that well, at least).
Hearing this composition took me back to when I left Baltimore and went to UMD. That move was bittersweet, as I was the first member of my family to go to college. Going to UMD, though, I was instantly surrounded by people who didn't understand my struggle, upper-middle class folks who lived in the county. I always felt they looked down on me because of who I was and where I came from, taking "pity" on the city boy.
That said, it was still beautiful in its own alcohol-and-sex-infused sort of way. And it made me accept myself even more and become comfortable with who I was.
Getting back to Knives, his projects are, for me, about growth and acceptance. Through the fifteen tracks of In the Mouth of Sadness, we get a view into who Infinity Knives is, the moods he may find himself in, and the people/energy he surrounds himself with on a regular basis. It's the perfect lead-in to Dear, Sudan (which I'll get into more detail when it drops).
I don't think I need to tell you this, but please support dope music in all its forms. You never know when you'll find your new favorite artist.